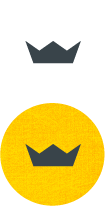 Websites & Interfaces We Crafted
Logos & Brands We Designed
Websites & Interfaces We Crafted
Logos & Brands We Designed
---
PEOPLE SIMPLY DON'T READ WEBSITES ANYMORE
They just scan it. They glance at it in the same way you glance at advertisements in a magazine. Don't believe us? Just think about this for a second. Think about your own browsing behavior. How many times have you Googled a website, clicked on one of the first results, waited for the page to load, scrolled down, scrolled back up and then gone back to the results page? We're guessing more than once.
Ten years ago you were wondering whether you even needed a website. Nowadays the question is: What can you do to your website so it will stop being invisible to your potential customers?
You need to be authentic — you can't fake it anymore. The new consumer is choosier and more knowledgeable than ever before. They just won't consume brands, nor spend time on websites that don't ooze authenticity, passion and quality. Why should they? They've got so many options to choose from and so little time to make their choices.
This is where we come in. Through a streamlined, five-milestone process we will plan, design, build, launch and manage your professional and high-impact online presence for your company.
PLAN
DESIGN
BUILD
LAUNCH
MANAGE
PLAN
Bring out the sharpeners
Once information is collected, it is processed into a plan. This step strategically outlines future tactics, budget, timeline and technology needs for the project. We ask questions, we gather your ideas, learn your business objectives and wrap our minds around what needs to be accomplished.
DESIGN
Burning the midnight oil
With the plan established, design and concept begin taking shape. The design process is best described as a funnel of ideas based on the objectives. Through constant refinement of our initial sketches (and a few gallons of coffee) we are able to narrow down a single sharp solution.
BUILD
Engineering from the inside out
Once the right solution has been pinpointed, it is time to take meticulous measures toward execution. All the pieces start coming together. We utilize varying technologies and resources to execute the project.
LAUNCH
Houston, we've got a solution
We put the spit-shine on our work and once we're sure all development is complete, we deploy the project in a live production environment.
MANAGE
Rinse & Repeat
Over time, projects are monitored and processes are continuously re-evaluated. As soon as we find room for improvements, the cycle begins once more.
---
HAPPY CLIENTS
We strive to provide brilliant ideas and impeccable executions to all our clients. They appreciate the ability to work with the actual people who pitch the ideas. We believe it fosters trust and confidence in our product because it ensures we'll only pitch ideas we believe in and want to execute. At the end of the day their appreciation is the seal of approval we work for. We are therefore extremely proud that they come back to stay with us year after year. But don't just take our word for it...
Juanma is a brilliant, funny, and competent designer and developer. But perhaps more important than his uncanny ability to make you laugh is his commitment going the extra mile for all of his clients.
---
— Sam Rosen, THOUGHTLEAD.COM
They always exceeded my expectations, designing beautiful things that actually work and make sense to users. Juanma is a brand specialist, UI engineer and visionary artist all wrapped up into one package.
---
— Tom Christ, GENESANT.
Powerful ideas, technical excellence, creativity. Of all attributes I found at

teixidó

, though, the best one is the quality of its people. They are team players and, when it comes to delivering results, they are the best.
---
— Carolina Ravera, UNFPA
These guys are simply outstanding! Being able to delegate a project completely and then be surprised by the outcome... that just doesn't happen very often. Long story short, they gave us what has come to be the best website we ever had.
---
— Rodrigo W., ONIRIA
NEDAP
ONIRIA/TWA
LUFTMAN HECK & ASSOCIATES
PIMENGO
FELIPE CANASTO
TIVA
FITCLICK
UNITED NATIONS
CONEXION
WEMBÉ
THOUGHTLEAD
SUM AGENCY
CONSTRUCTION SAFETY JOBS
BANDA GROUP
BANDIT ADS
STOP BEING INVISIBLE TODAY
Are you tired of being invisible to your customers? Let's talk for real then.